Wij heten u van harte welkom bij Eetcafé de Brug, een historisch pand aan de B.K. Bosmaplein 2 te Nieuwolda. De bewoners van Nieuwolda noemen het gebouw nog vaak 'Pand Klei'. Dit komt doordat tot 1985 het pand in gebruik is geweest als kruidenierswinkel. Deze winkel werd gerund door de familie Klei.
Het gebouw is oorspronkelijk gebouwd door de familie De Muinck in 1852.
De erkervormige uitbouw is een toevoeging uit 1905-1910. Na restauratie bestaat het pand uit: logies, eetcafé, cafetaria en een terras aan het water.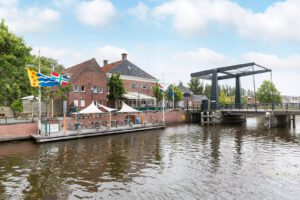 Het terras geeft een mooi uitzicht over het Termunterzijldiep en is gelegen aan de jachthaven "het Dok".
Wilt u gebruik maken van logies, bel of mail ons voor de mogelijkheden en beschikbaarheid. Wij beschikken over drie 2 persoons kamers met gedeelde badkamer, voorzien van een fijne douche, aparte wastafel en toilet.
Een barbecue of feest geven op ons prachtig gelegen terras aan het Termuntenzijldiep? Er is inmiddels een prachtige overkapping en er zijn diverse zitjes, kortom een plek om heerlijk te relaxen. Kom gerust langs voor de mogelijkheden.
Openingstijden:
donderdag 16:30, vrijdag 11:30-13:00 & vanaf 16:30, za 16:30, zo 16:30
Rest ons een gastvrije groet en graag tot ziens,
Het team van Eetcafé de Brug